Winter Exhibits debut in December at the McLean Project For The Arts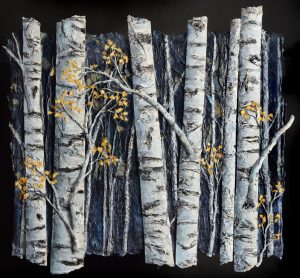 The Emerson Gallery will feature the "In the Round: Dimensional Fiber Works" exhibit, while the "Trees on the Edge: Artwork in Layered Paper by Ronni Jolles" exhibit will be on display in the Atrium Gallery. Both exhibits, located at the McLean Community Center, will run through Feb. 18.
The "Trees on the Edge" exhibit at the Atrium Gallery will be available for viewing during McLean Community Center operating hours.
The exhibit will feature Jolles' paper paintings created through a unique process using many different kinds of paper from all over the world. She cuts, tears and layers hundreds of pieces to build each of her images, creating works with active texture, infinite color and distinct presence.
The "In the Round: Dimensional Fiber Works" exhibit at the Emerson Gallery will be open to visitors Tuesdays through Fridays from 1 p.m. to 4 p.m. and Saturdays from 10 a.m. to 3 p.m.
The exhibit will feature works made primarily from fiber-based materials. It will include works by artists YunKyoung Cho, Linda Colsh, Michael Gessner, Sookkyung Park and Kristina Penhoet.
"Most often, we see fiber as a way of creating 2-Dimensional works," McLean Project for the Arts Curator and Artistic Director Nancy Sausser said in a statement. "The artists in this exhibit have taken a fresh look at traditional processes in order to invent unique ways of building form and volume. The imaginative variety represented is spectacular."
A reception, from 7 p.m. to 9 p.m. on Friday, Dec. 9, will kick off the show and be presented by The Mather. The public can visit the art organization's website to RSVP for the reception.