Tysons to host the National Cherry Blossom Festival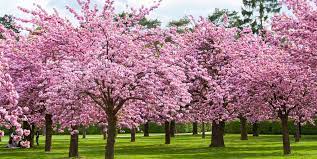 The National Cherry Blossom Festival is coming to Tysons this year.
Tysons Corner Center will host a family bicycle ride on April 2 as part of D.C.'s annual celebration of its cherry trees at the Tidal Basin, the Tysons Community Alliance (TCA) announced during its official launch event at Valo Park.
The alliance — a nonprofit organization — has also acquired 20 cherry trees and is now scouting out possible locations around Tysons where they can be planted.
The bicycle ride will last from 8 to 10 a.m. starting in the Tysons Corner Center Plaza, where there will also be arts and crafts and other family-friendly activities. More details, including how to register for the ride, are expected in the coming weeks.
Though this year's ride will stick to the mall's footprint, future iterations could expand to other parts of Tysons as the area's network of streets and trails gets built out.
The bicycle ride is one of several events that the TCA hopes to bring to Tysons, along with a live music series at The Boro, movie nights and monthly happy hours that will bring "like-minded people together to collaborate on TCA initiatives," according to the press release.
As part of its official launch, the TCA unveiled a new website at tysonsva.org with an event calendar, news, business resources, development updates and other Tysons-related information. It also shared its social media handles at Twitter and Instagram (@tysons_va), and Facebook and LinkedIn (@TysonsCommunityAlliance).