The Mid-Atlantic Police Motorcycle Rodeo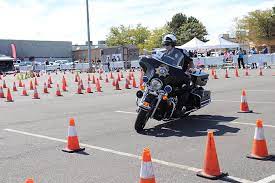 8000 Galleria Dr Tysons Corner, VA
​ October 19 – 22, 2022
History and Mission of the MAPMRC
The Mid-Atlantic Police Motorcycle Rodeo was the "brain child" of Corporal A.D. Johnson, a motorcycle police officer with the Prince George's County Police Department, Prince George's County Maryland. In 1979, the first rodeo was held, to build up the skills and working relationships of the motorcycle officers in the Washington Metropolitan Area. Tragically in 1982, Corporal Johnson was killed in an on-duty motorcycle accident. In the spirit of Corporal A.D. Johnson, the organization continues today, heading into its 42nd year of operation.​

The rodeos have continued throughout the years, with the invaluable efforts of many dedicated volunteers, police officers and civilians alike, whose help has made it possible. As the rodeo grew, it became apparent that the committee would need to grow as well, to handle the increasing demands placed upon it. Many new agencies became interested in participating, and the committee was asked to assist with establishing other training events in the United States and Canada. The committee was incorporated in 1988 as The Mid-Atlantic Police Motorcycle Riding Committee, Inc. with its emphasis on increasing the "safe" operation of police motorcycles and increasing the skills of individual officers.​

The Mid-Atlantic Police Motorcycle Riding Committee, Inc. (MAPMRC, Inc.) continues to be dedicated to increasing "inter-departmental" communications between police agencies everywhere. It is the desire of the MAPMRC, Inc. to provide better service to the public, not only through encouraging safer motorcycle operation, but also with providing an avenue through which officers would have personal contacts with other officers in various areas, providing an invaluable investigative resource.​

In 1998, the committee voted to take on COPS (Concerns of Police Survivors, Inc.) as our main charity. In 2013 we adopted the Make A Wish charity. In 2018 SOWW (Serve Our Willing Warriors) was chosen. Beginning in 2019 the representative state's special olympics organization has been supported. Through our annual police motorcycle training event, and with the support of other donations, the MAPMRC has been able to donate over $269,000 to COPS and $51,000 to the Make A Wish Foundation. In 2018 we donated $25,000 to Serve Our Willing Warriors. This would not be possible without your support!​​In 2019 our partners in Pittsburgh chose to support Special Olympics Pennsylvania. We continued to support this incredible organization in 2021 through Special Olympics Virginia. The purpose of Special Olympics Virginia is to provide year-round sports training and competition in a variety of Olympic-type sports for children and adults with intellectual disabilities, giving them continuing opportunities to develop physical fitness, demonstrate courage, experience joy, and participate in a sharing of gifts, skills, and friendship with their families, other Special Olympics athletes, and the community.​ In 2021 the MAPMRC donated $20,000 to this outstanding group!​2022's program will support COPS Kids and Boulder Crest Foundation; charities near and dear to our hearts. COPS Kids supports the children of survivor families. Boulder Crest Foundation focuses on military and first responders who have survived critical incidents . ​