Q & A: Sarah Schallern Treff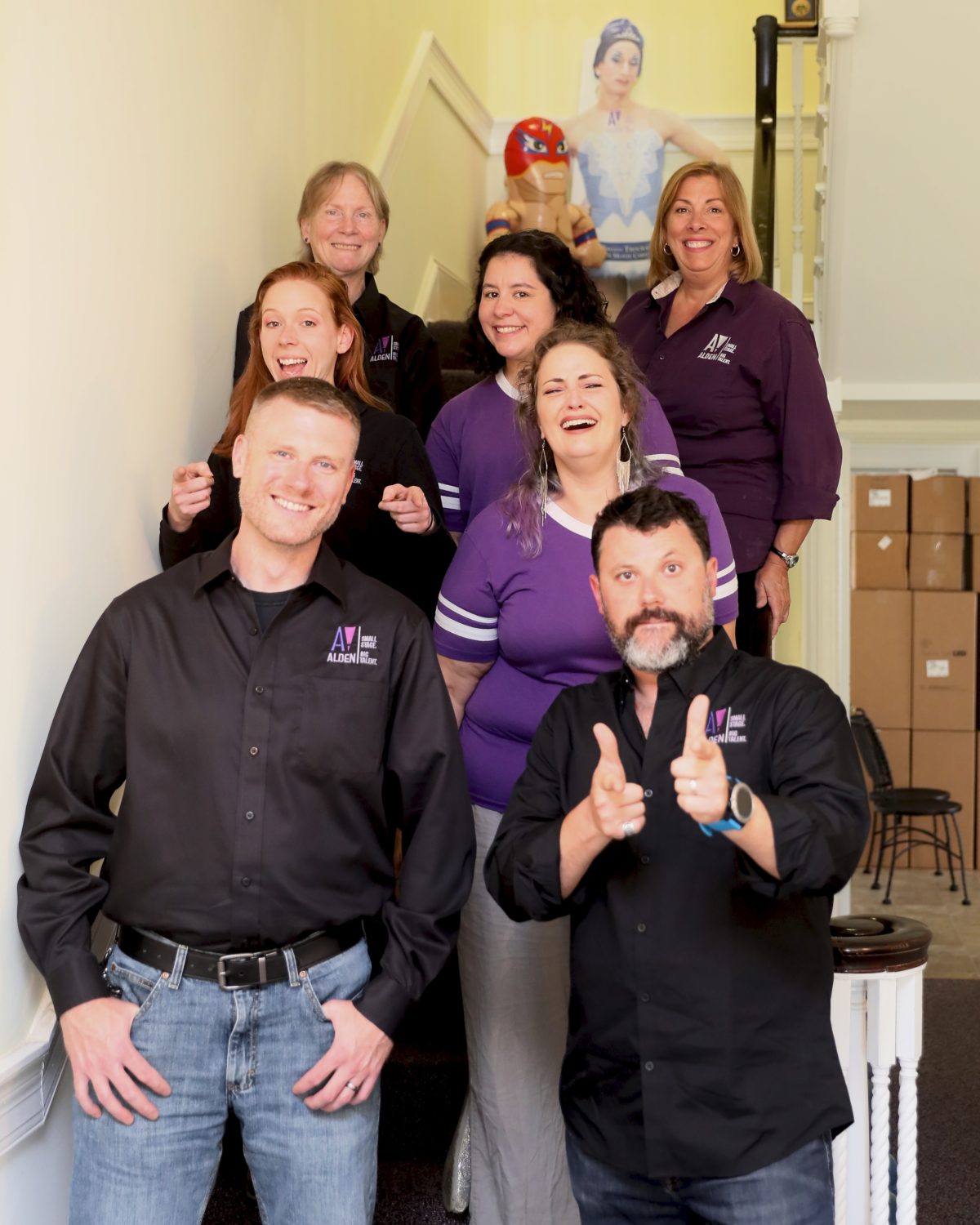 In the latest interview for McLean Today's Talk series, we chat with Sarah Schallern Treff, The Alden Theatre's Performing Arts Director — pictured above second from front right with her Alden colleagues. Located in the McLean Community Center, the performing arts venue — www.aldentheatre.org — presents nationally and internationally touring acts in music, comedy, dance, film, children's programming and much more.
Colleagues pictured above, clockwise from the bottom left: Justin King, assistant technical director; Cat Salisbury-Valarian, former Alden technician; Jennifer Garrett, technical director; random punching toy; Alden performer Ida Nevasayneva (of Les Ballets Trockadero de Monte Carlos; Evelyn Hill, patron services manager; Danielle Van Hook, director of youth programs; Treff, and Jeff Virchow, performing arts assistant and usher coordinator.
Q. What does a typical show day look like for The Alden's performing arts director?
I could come in at six or seven in the morning; set up the green room — the backstage area for the artists. After that's done, I may go home; get some rest; get dressed; come back and check on the artists. I have some great colleagues that take care of the hospitality. I will check on comp tickets, anything we need to tell the ushers and then the regular work of answering email. I feel like I'm constantly negotiating and going over contracts.
An hour before [the show] I go upstairs and my colleague Jeff [Jeff Virchow, Usher Manager and Performing Arts Coordinator] who is in charge of our ushers will touch base with me about the show and anything I need to know. For example, is anyone from the performing group coming into the audience? Is there an intermission? What's the late seating policy? All these little details. We orient the ushers, we open the house. Then it gets really interesting — we're a small staff — so I can be at the doors scanning tickets or if there's a line at box office I'll run in and help with box office, and then five minutes before the show I have to run backstage to get ready for the curtain speech.
We like to take turns being able to watch the show. Someone's always in the lobby in case of emergency or if there are patrons that have questions so we will switch off and see little parts of the show. When the show's over, I send thank you emails with a survey. We wait for artists to leave and then we clean up the green room which can be very very easy or it can be quite an adventure.
Q. In your almost 15 years at the Alden, do you have a stand out memory of a performance?
We have had this dance company here twice — Pilobolus — and the first time they came here was the first time I ever saw them live. I can't even translate it into words what it was like — it was way beyond dancing — something so human and intimate about it. It was so moving and some of it was funny. The venue was great for it because we're pretty small. If you go to the Filene Center or The Kennedy Center it's a different experience seeing dance. When you're that close it gets really personal. It's not just that they're great dancers, it's that they had something to say and the audience was ready to hear it. I'm so lucky to have been at it. More than that, I was lucky to have brought it to the community.
Q. How did you get backstage?
My undergrad is in vocal performance; then when I went to grad school — I had done some directing in undergrad — so then I got my masters in opera stage directing. That's quite a niche, but my assistantship in grad school was in the development office so I learned a lot about that side of things and fell into arts administration through development. I was at the JCC [The Jewish Community Center (JCC) of Greater Washington] and that was almost entirely classical music, which obviously with an opera background is exactly what I was trained in so coming here was amazing because there's such a breadth of artists that we bring. For example we were doing silent films with live music. Never in my life would I think I would do that. I went to a performing arts high school in Atlanta. I had to audition in two different areas, they were very serious about creating triple threats so we had to sing, act, dance and we took tech theater.
Q. Is there a childhood theater memory that inspired your arts passion?
Growing up in Atlanta we had the Fox Theater which is a beautiful theater and they would have national tours come in. I have so many memories. My mom's side of the family is Jewish and they came to this country after the 1905 Odessa pogroms, which is what Fiddler on the Roof is based on. I remember seeing that in the theater. My mom was a big proponent of going to the theater. I'm 99% sure I saw Hello Dolly with Carol Channing. Musical theater is my first love. I always loved Gilbert and Sullivan. I remember when I was a kid that the movie — not very good — of Pirates of Penzance came out. I just loved that I had the record. Here's my weird tidbit: when I was playing with Barbies, my little Barbie area was next to the record player and we had a lot of cast albums, so I would make costumes for my Barbies and I had one Ken — so we had lots of Barbies playing the male roles — and I would put on musicals. I would put the record on and they would do the musicals. The Barbies were performing before I was.
Q. What are some of the more successful performances?
Our biggest success was very untraditional. It was the summer of 2020, people were locked away and not seeing anything live and Danielle [Danielle Van Hook, the Alden's Director of Youth Theater Programs] came up with this idea, that was kind of like a Disney ride, like Pirates of Caribbean: Drive-Thru Drama. We made our parking lots into a stage that people drove through. It was super fun. That was the most unique thing we have done. I didn't think anyone was doing anything like that at the time. Everything was sold out.
Q. Tell more more about Drive-Thru Drama.
Thirty days. Three different productions. The logistics. It was so fun because we're not a producing organization. We don't put on plays. We hire someone who's touring with a production. We were putting things on in a parking lot and figuring out how many cars can fit there; the entrance time; the logistics. We really enjoyed it. We have a really great tight staff, people who are very detail oriented so we were able to put these plans together because we did three productions. We were able to expand each one and make it a little more complicated but completely safe — no cases of Covid in the audience, in the staff, the artists or the performers. Maybe that can be done again.

Q. Are there plans for another Drive-Thru Drama?
We wanted to do it again but when people started coming back out, the demands of the building really required the parking lot to be free. We talk about doing it in different ways. We have McLean Central Park next to us. We thought maybe we can do something there. We do concerts there. Maybe A Midsummer Night's Dream, where you go from stage to stage. I think we're exhausted from producing right now but it's really changed how we look at booking and performers: The same traditional thing just isn't as engaging anymore — for our audiences too because they experienced this too. We're so grateful. It was so moving. The comments that we got; seeing tears in the eyes of some of our patrons because they were actually able to go experience live theater. They were changed as well.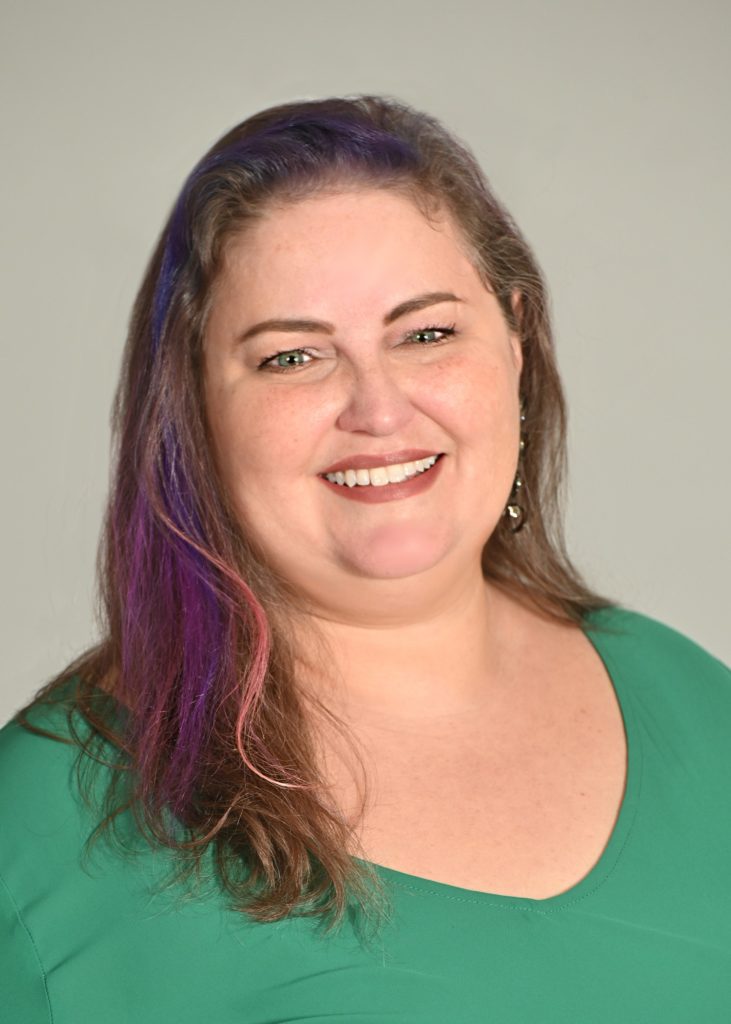 Q. What are some of your most popular youth offerings?
In general, McLean is very focused on their kids. People move to McLean because of the wonderful schools and they want to give their kids everything so our youth shows are very popular. People want to expose their kids to the arts. They're actually good enough that we do get adults without kids coming to see them. They're really great quality and Danielle's programmed some very creative things.
We have the group of families with younger kids — that can be families of parents and kids; or aunts and uncles and kids; or the entire family with grandparents and everything. I would say [age] 12 is when the kids start saying "No, I would like to go see Justin Bieber instead." So there's a little bit of a gap. Everything is all ages but we will have shows appealing to the middle school and high school crowd and beyond.
A little bit ago we had a group called Hiplet Ballerinas and it was hip hop and ballet on pointe shoes. That was really appealing to that sort of middle group. The biggest thing we do for the middle school/high school groups are improv comedy classes. Those are really popular and we have a great instructor and we actually have a professional improv comedy troupe of teenagers, the Unruly Theatre Project —McLean Community Center – UnRuly Theatre Project (mcleancenter.org). They tour around, give free workshops. There was an improv competition called Improvicon in the Northern Virginia area. They were the only non-adults to compete and they won. They are really good. They're hilarious.
Q. What would the new amphitheater currently in the planning stages for the McLean Central Park renovation, mean for The Alden?
The amphitheater would really expand what we can do in the park and it would really expand what the community could do. We have the McLean Symphony, the McLean Community Players, they would be able to do so many cool things if we had a proper performance space out there.
Q. What is a dream project/performance you'd like to bring to The Alden?
I have weird dreams. I'm a little bit quirky. One of the things I would especially love to do here during the holiday season is instead of kids doing school holiday pageants. I would love to do a Festivus production of Seinfeld using only elementary school kids. There would be a whole level of humor. I think it would work really well and be nontraditional. You don't have to worry that this is Christmas, Chanukah, or Kwanzaa. Festivus is for the rest of us. I'm a big Seinfeld fan so I'm a bit biased. Janelle Monáe has one of her albums envisioned as a stage production and I would love to mount that here. It would be amazing.
We would love to do larger scale things outdoors. I was really lucky that about five years ago, I got a cultural exchange grant to go to Brighton England during the Brighton Fringe Festival. I saw some really amazing things in really untraditional spaces. I saw one show that was in a basement in a room about the size of my office. I would love to explore this wonderful space we have in the Community Center, not just the theater. The rooms, the courtyard — obviously we explored the parking lot — to see how they can be used for performance spaces and just have different experiences.
Q. Besides the Alden, what's your favorite spot in McLean?
I do like hanging out at The Old Firehouse, our satellite location. I don't get to see my colleagues there a lot and they are some of the coolest people I know. During the [Community Center] renovation we did a lot of programming over there which was neat and a great way to get to know that group. One of my favorite things to do in McLean is the walking trails. We're right next to the [McLean Central] Park and the Park has those little trails. They've expanded so much so you can be a part of nature anywhere in McLean. The whole area has packets of nature and peacefulness and I love that. I love the campus. I love Bob Alden's vision for a community campus of the park and the library and the community center. It's a great place to work because all of these wonderful things are right here.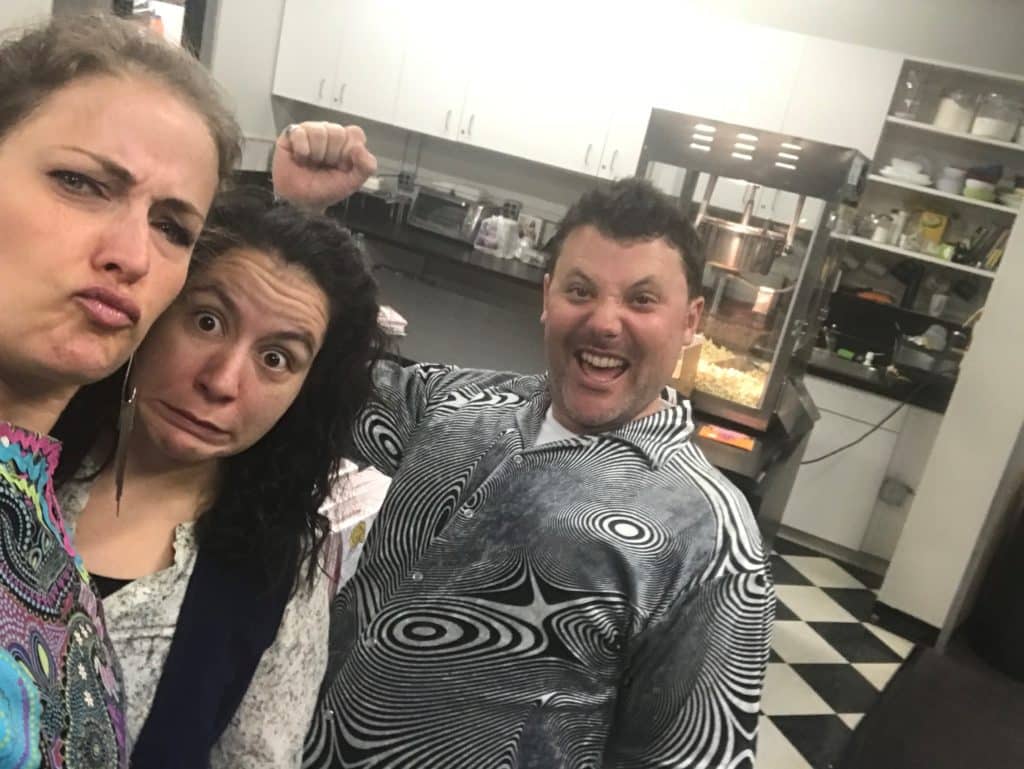 For more information and for upcoming events/classes/performances: www.aldentheatre.org, 703-790-0123. A few highlights below:
Gayle Jo Carter, the former entertainment editor at USA WEEKEND magazine, has interviewed newsmakers for AARP, USA WEEKEND, USA TODAY, Parade, Aspire, SurvivorNet and Washington Jewish Week.
Do you know someone in McLean who would make an interesting interview for TALK? Tap us at contact@mcleantoday.org.