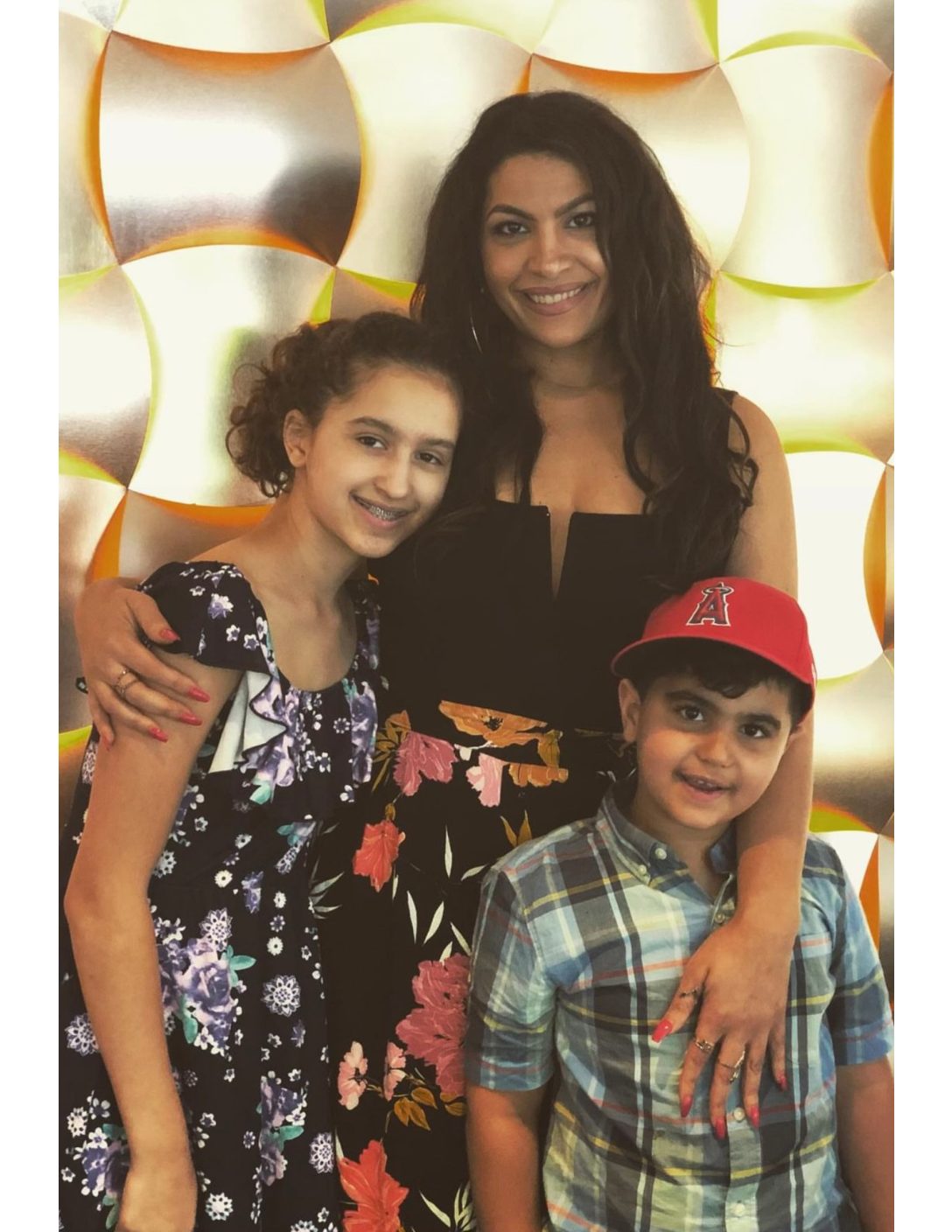 In this week's TALK series, McLean Today sits down with Lara Stuckey, owner, Fluffy Thoughts Cakes. In 2010, Stuckey transformed her passion for both art and baking into neighborhood bakery. Since then, Fluffy Thoughts Cakes has become a local institution and an award-winning inventive wedding cake shop. The store, previously in downtown McLean, is in the process of relocating to Old Dominion Drive across from The Chesterbrook Shopping Center. In the meanwhile, you can find all your treats at fluffythoughts.com where the baking doesn't stop.
Q. Do you remember making your first cake?
I want to say 7th grade. Whenever it was anyone's birthday, I would make them cakes or brownies. I would bring it in with balloons. I was always the go-to cake person when I was in high school. I would bring the deserts for my friends. Everyone always knew that I had some kind of desert with me. My mom's an artist and I'm an artist. Growing up, she would make all of our birthday cakes and she would always make them very designed. I got fascinated by that. I would always watch her making them. She was an amazing baker. She taught me how to do a lot of the stuff that I do. [Professionally] she's a porcelain painter. She teaches porcelain painting. She does art in a different way. She has helped us from time to time in the shop, coming in and painting on cakes. She's amazing.
Q. Do you have any formal training in baking?
I used to be a therapist in an adolescent home. I have a master degree in counseling/psychology from Marymount. While I was doing that, I got really into baking at night it for my own therapy. I would bake when I got home from work. I used to do it out of my house. At night, I went to L'Academie de Cuisine [a since closed culinary school in Gaithersburg, Maryland]. They had this night time professional baking school. I did that and got a degree. I always knew all along that I wanted to do cakes. I also take classes with cake decorators around the country that I looked up to.
Q. Then you made the leap from home baker to store owner?
My friends were like "Why are you just giving this stuff away?" Just start selling it. So I started selling it and people started talking. My friends would buy stuff, taking it to parties and people would ask, "Who made this? " I did it for about three years out of my house then finally it got too big. It snowballed. My father passed away and when he did it was really hard for me to go back and do therapy with people. He always told me: Follow your dreams… Life is too short… Do what you want to do. I just decided to jump into the ocean and just do it. My mom was worried. She didn't want me to give up on my career. I told her I have a degree and I have something to fall back on so if this doesn't work, I can go back to it. Here we are fast forward thirteen years.
Q. Why did you choose to open Fluffy Thoughts Cakes in McLean?
I grew up here. I have lived in McLean my whole life. Growing up in McLean, all you've ever had was Giant or Safeway. Our main thing when we make our cakes is that everything is made from scratch, We make all of our ganaches, our curds, our jams, our caramels in house. We don't cut corners. All the ingredients you can pronounce them. It's just eggs, butter, milk, sugar, vanilla. That's why moms — when they order stuff for schools — they need an ingredient list, they understand what they're getting. Everything is baked right before you get it. That is important for me becauseI have kids.
Q. How many bakers do you have?
I have one person who bakes everything; we have a pastry chef; three decorators. As much as I love doing it, when I first started I was doing everything. I was baking, decorating, doing consultations, I was doing it all. Now I'm pretty much on the back end. I still do all the consultations with the brides, the sketches. I'll help out in the kitchen whenever it's needed. If we're swamped, I'll jump in and do some stuff. My favorite part is doing the cakes but I need to take care of the business part of it.
Q. How many cakes are you baking a week?
We do six wedding cakes a weekend and on top of that we do about forty more cakes. Some are simple but most are designed. We also do cupcakes a lot and we have a full on desert bar menu so we make cake pops, Rice Krispies Treats, brownies, cookies, blondies, mini pies, you name it. Our baker loves trying out new things. Sometimes, people will bring us their recipes and we'll do that for them.
Q. What's your favorite baked good at the store?
I love our brownies and our blondies. They are so good. Our carrot cake — we use tons of fresh carrots, raisins, and walnuts in it. It's delicious. As far as design, we've been on TV shows — The Cooking Channel, The Food Network. We've done a bunch of competitions. Right before the pandemic we went up to Canada and did a show where we made this giant Fabergé egg with a bunch of little Fabergé eggs on top of it, it was spinning, very heavily decorated. That was one of my favorite things we made. We also did one for another show where it was a 5 foot elephant; on top of the elephant's back was nine tiers of cake. It was all henna piped and detailed. It was for an Indian wedding. The Library of Congress cake was beautiful; we've done cakes for President Obama, Mrs Obama, for a lot of politicians and celebrities.
Q. Are your kids into baking — following in your footsteps?
My son [Clark] was born into it. I was literally working up until two days before I gave birth to him. I don't know if you remember it but in 2012 we lost power in all of McLean. I was two days from giving birth and I had to figure out where to put all these wedding cakes. I was running around with cakes to find generators. He loves baking. He'll come into the kitchen, he'll grate carrots and weigh stuff for my baker. My daughter [Chloe] is into art, so she'll do more of the artsy stuff for us. She'll do a lot of the logos and the labels and the decorating. Clarkie is more into the baking part of it and helping with sales. Since he was about six, when we had the storefront, he would run the register — getting boxes for people and filling them up and running the credit cards.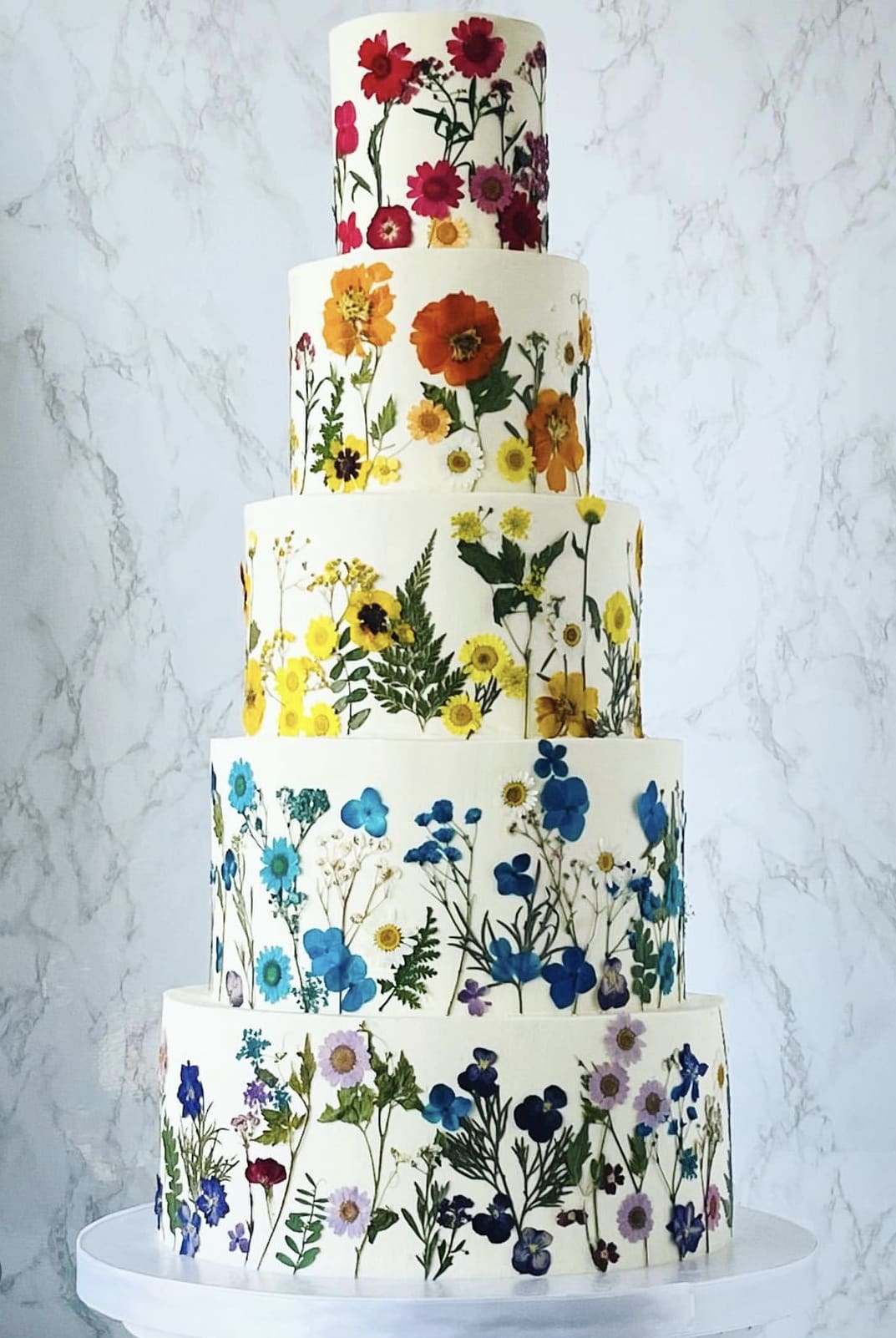 "We have about 25 different flavors," says Fluffy Thoughts owner Lara Stuckey. Some of the most popular: Strawberry Shortcake, Lemon Tart, Coffee in the Morning; Red Velvet is made the traditional Southern way; funky unique flavors like Green With Envy. How long does it take to make a wedding cake? A simple cake is five hours, from start to finish. If something is really detailed, sculpted, hand painted it can take up to two days. Martha Stewart posted one of Fluffy Thoughts Cakes they did of The Library of Congress on her Instagram account. "It took three days to make that. Just a post from Martha is enough."
Q. What gave you the spark to become an entrepreneur?
My dad was a businessman, an entrepreneur. My sister owns a bridal store in Georgetown so we kind of work together and she also owns another business now where she rents out tableware for weddings. We've always grown up with it. He instilled that in us to work for ourselves and be business owners. I do it because I want my kids — especially my daughter — to see women can do this.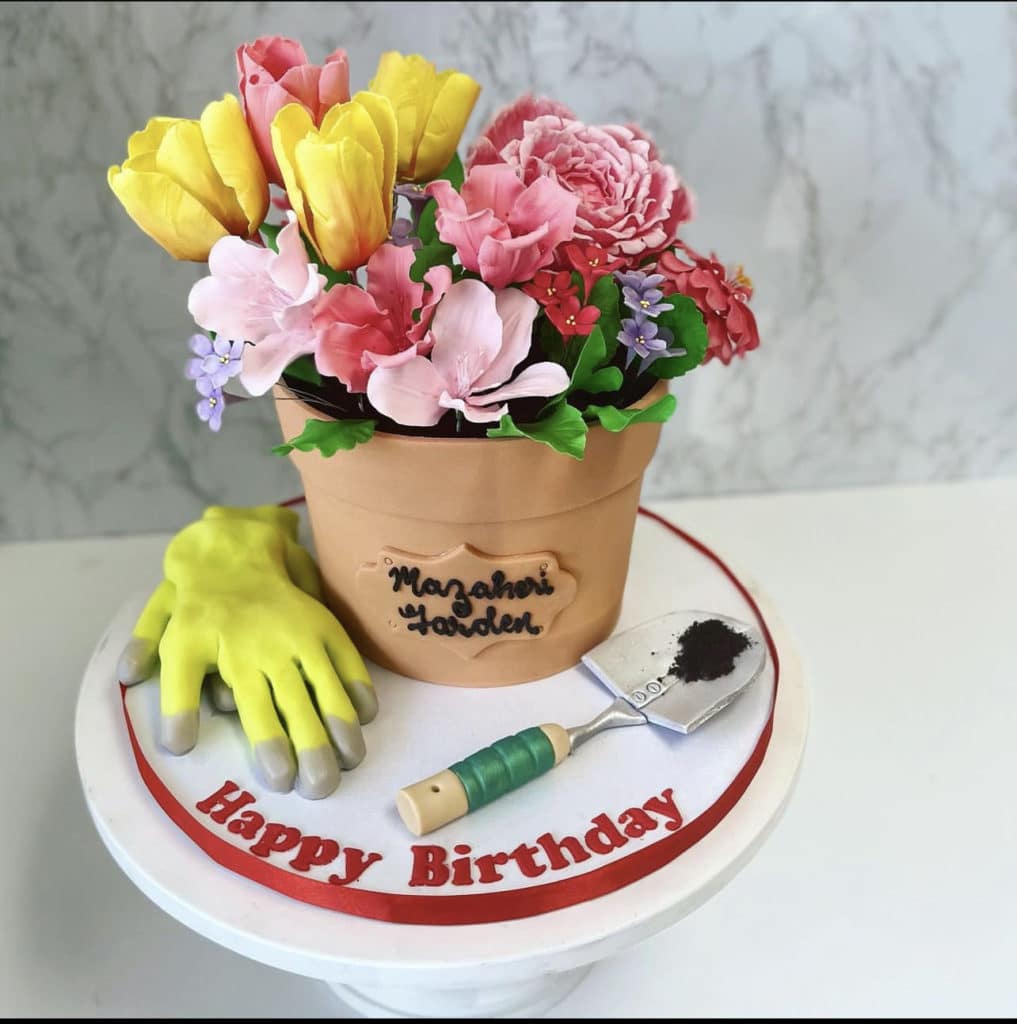 Q. Do you have a favorite place in McLean to grab a bite to eat?
The kids love to eat at Tachibana and Chesapeake Bagel Bakery.
Q. Where is the new store and will you try out anything any new?
We're going to be right next to the Badd Pizza [on Old Dominion Drive] across from The Chesterbrook Shopping Center. In the new spot we can sell some cupcakes [and baked goods] day of — we'll have a QR code outside the door for scanning and ordering product. We're going to have a the farmer's door that opens on top so we can just open the door and hand orders to customers. The space is smaller so we don't have space for a display case in store but I know people want to pick up cupcakes last minute. We're going to try out some new flavors. I do want to have some seating outside. Our main window is where our decorators are working at the front so we're having the tables up close so people can watch the bakers work. When it gets warmer,people can watch the decorators work on the cakes. I think people love that. I hope to bring back birthday parties for kids where they come and watch and learn and build cakes.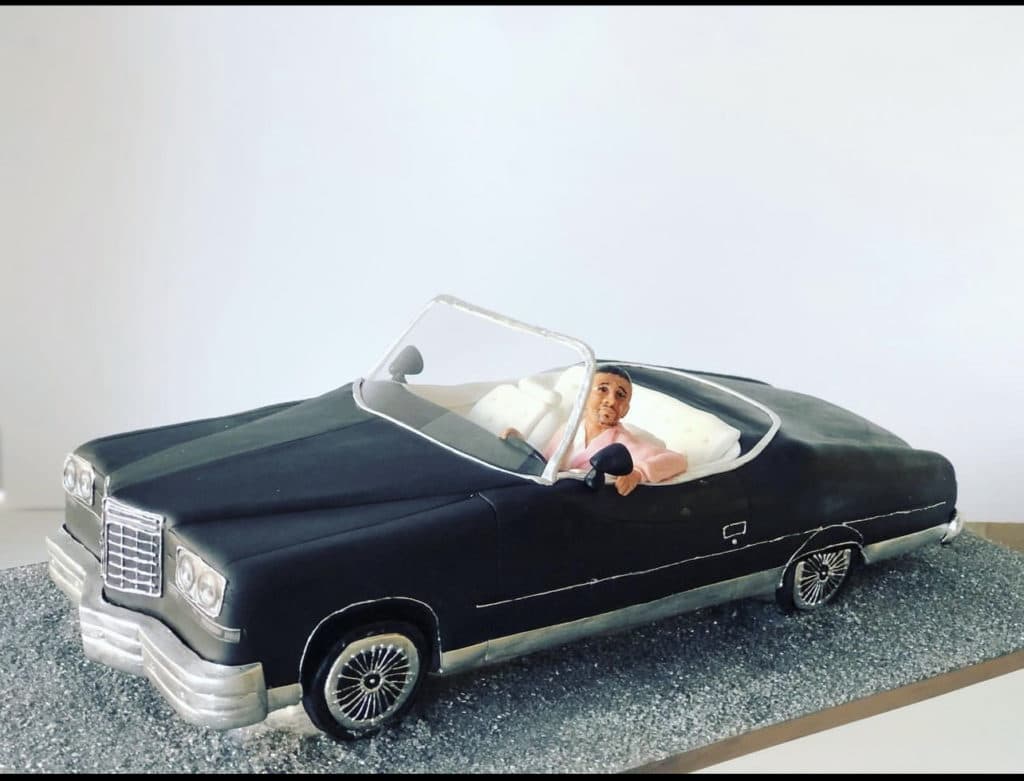 A groom's cake for a wedding that Fluffy Thoughts Cakes crafted.
Gayle Jo Carter is the editor of McLean Today.

Do you know someone in McLean who would make an interesting interview for TALK? Tap us at contact@mcleantoday.org.