Share: Thanksgiving Program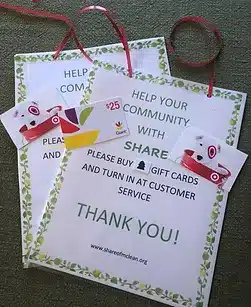 Each November, McLean neighbors who have registered for the holiday program receive a reusable bag filled with pantry staples and holiday favorites.
​​
Because our neighbors come from diverse ethnic backgrounds, or may have dietary restrictions, Share also distributes a grocery gift card to each family which allows them to shop for their own celebratory foods.
​​
The food and grocery cards for this event come from food drives throughout the community and from private donors.
​​
If you are interested in volunteering to fill boxes, register neighbors, or host a food drive, please see the Get Involved page for more information.
What is Share?
​
Athough we are not religiously affiliated, Share was organized in 1969 by a coalition of local faith communities to help meet the emergency needs of our neighbors in McLean and the nearby areas of Northern Virginia.
​​
Share is an all-volunteer organization with no paid staff, no office, and no paid fundraisers, therefore, nearly all donations directly benefit our neighbors in need.
​
Share Inc. is a 501 (c) (3) non-profit organization. To see our IRS Form 990 annual financial reports, click here.
​​
Share supported by generous donations from local religious congregations, community organizations and individuals. Our food and clothing room is housed is space donated by the McLean Baptist Church.
​​
It currently takes more than 1000 volunteer hours per month to run our programs, so we are always recruiting new volunteers.
​​
To read more about the history of the organization, click here.
The Neighbors Share Serves
​
​​Our neighbors in need are economically distressed families and individuals, seniors living on limited pensions (often facing medical issues), impoverished immigrants, and victims of spousal abuse, as well as the homeless.
​
The neighbors Share serves are referred to them from participating faith communities, county social services, and a number of non-profit groups serving special need groups (such as victims of spousal abuse or the formerly homeless).
​
Before being granted services, these neighbors are screened to ensure they fall within our service area and have an appropriate level of need.
​
Share serves the working poor, disabled persons, the homeless, recent immigrants and the elderly as well as those facing a crisis such as illness, job loss or other family emergency.
Last year, Share provided services to about 1,500 families including 4,000 household members, most of whom are children.
​