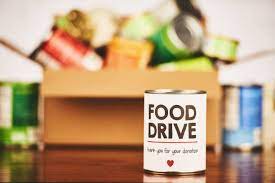 Food drives are held throughout our community in schools, offices, clubs, and stores. Some choose to offer an incentive for donating such as tickets to an event or points towards a competition, while others simply place a box out for members to leave food in. Whether big or small, complex or simple, food drives are a great way to make a big impact at our pantry!

HOW TO HOLD YOUR OWN FOOD DRIVE
Share of McLean wants to partner with you to ensure that the drive is positive experience for all
involved. Gaining agreement between all parties as to the drive dates and delivery dates will help
ensure a smooth transition of food and personal supplies from your organization to ours.

Share's Food Drive Guidelines

● Please review the food drive checklist (How to Hold a Food Drive) provided below.
● After reviewing the checklist, send an email to Share (sharevolunteers1367@gmail.com) with
your desired drive dates.
● Within a 10 day period you should receive an email confirmation or a call, from a Share
representative, confirming the date for your food drive including a confirmation date for
delivery. Please understand that your food drive is not considered approved until you receive
a return email confirmation from Share.
● This confirmation email will include the dates of your approved scheduled food drive along
with an assigned donation drop off date. Typically a donation drop off date is scheduled during
our open Share hours, Wednesday or Saturday between the hours of 9:45-11:45 am. Under
special circumstances arrangements can be made for an alternative drop off time or a Share
truck can be scheduled to pick up donations (if the donation size warrants it). These special
arrangements must be confirmed by a Share representative. Alternative delivery times are
based on the availability of a volunteer to supervise the delivery during non-Share hours. Truck
availability is limited based on the availability of a volunteer truck drivers.
● Share has found that donors respond well to themed food drives. If you would like a theme,
the theme for your food drive will be included in your confirmation email.
● Share has provided a checklist that we hope will be helpful for organizing and managing the
drive.
● Prior to your donation transfer to Share, Share would appreciate it if you could
Sort donations by category, each in different boxes (beans with beans; soup with
soup; shampoo and condition with personal hygiene products; ketchup and mayo
with condiments; etc) Reminder: No glass bottles of any kind.
Check expiration dates (Reminder: no expired items will be accepted).
Fill boxes with no more than 20 lbs (many of Share's volunteers are senior
citizens). No plastic or paper bags please as these can rip. Reusable, grocery bags
are welcome. Hint: Giant's organic milk and egg boxes are the perfect sizes.
Contact your local Giant as they typically have no problem saving them for your
pick up. Boxes from VA's ABC stores are good choices as well.
Label boxes with their contents.
● Deliver the boxes at the scheduled drop off day/time.
Share, Inc. A non-profit organization incorporated in 1969. Meeting local community emergency needs.
Food/Clothing Room Donations (703) 229-1414 Furniture Hotline (703) 448-1054
Operated out of McLean Baptist Church