NPR's Student Podcast Challenge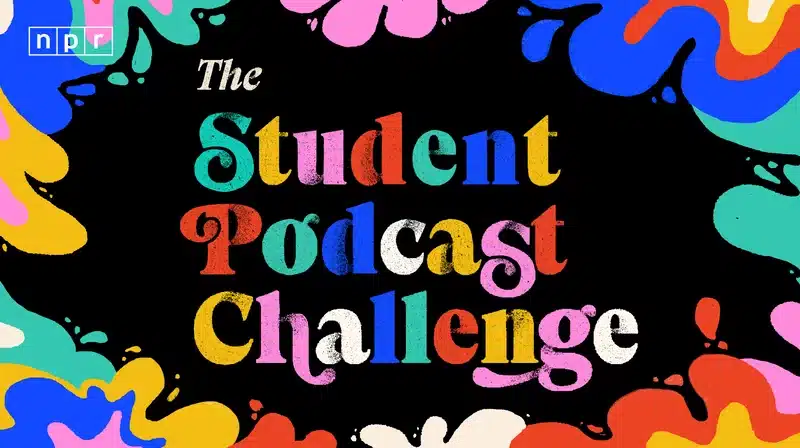 Calling all Students
NPR's Student Podcast Challenge will open for entries on Jan. 6, 2023 and close on April 28. The judges will choose winners in two categories: grades five through eight and grades nine through 12. Entries must be submitted by an educator or a student leader who is 18 years old or older. Read more here.
And for all the college podcasters out there? Not to worry – the College Podcast Challenge will be back for its third year, in the fall. Entries will open on Sept. 1, 2023 and close at the end of year on Dec. 31, 2023 to give students the entire fall academic term. And, as with last year's, the college contest will award a $5,000 grand prize scholarship and $500 prizes to finalists.
One big change this year: the college contest will be open to students of all ages pursuing an associate's or bachelor's degree, as well as those who are set to graduate in 2023. This means that if you're a college senior entering your final winter/spring term, you can still submit your work in the fall! College podcasters can enter your own work, without going through your school or professor, as long as you're 18 years or older.
For the middle and high school contest opening in January – and for the college competition later in the year – our basic guidelines remain pretty much the same: Students can create a podcast about any topic they wish to explore. To give you an idea, we've listened to stories on everything from social media, tattoos to even tater tots. Some themes we've seen over and over include questions on race and identity and how young people do, or don't, fit in. Your podcast can also be in many different formats: an interview, narrative story or even investigative reporting. You can do it by yourself or with your entire class.
One important rule to keep in mind is that the maximum length of your podcast is eight minutes, and longer entries will be disqualified.