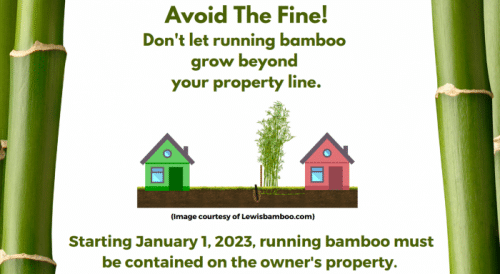 In March of 2022, the board of supervisors passed the new running bamboo ordinance that goes into effect on January 1, 2023.

Property owners who have running bamboo growing on their property must not allow it to spread from their property to any public right-of-way or adjoining property. Once a bamboo owner receives a Notice of Violation, failure to contain the bamboo may result in a civil penalty of $50/day, up to a maximum of $2,000 in a 12-month period. The ordinance does not prohibit planting or having running bamboo on your property.


Running bamboo is an invasive plant that can be destructive to native plants and trees. Its roots can be contained using a barrier made of certain kinds of high-density plastic or metal. It can also be managed through regular mowing and herbicide application. To learn more about how to remove or contain running bamboo, visit the Running Bamboo webpage or visit the Fairfax County Master Gardeners website at fairfaxgardening.org.


To file a complaint about uncontained running bamboo spreading to an adjacent property or right-of-way, please contact the Department of Code Compliance at 703-324-1300, TTY 711, or file a complaint online at the Department of Code Compliance (DCC) website.