Pickleball Courts: Lewinsville Park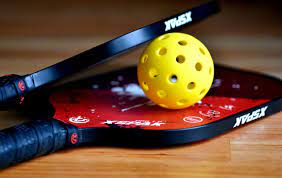 On Saturday, October 15, the Fairfax County Park Authority officially opened the new pickleball courts at Lewinsville Park in McLean on Saturday, Oct. 15.
The ribbon-cutting ceremony —to mark the completion of the pickleball courts and updates to the tennis and basketball courts — was held at 4 p.m. near the plaza area at Lewinsville Park. Park Authority Board Member Tim Hackman and Park Authority Executive Director Jai Cole and Fairfax County Advocates for pickleball spoke at the event.
Court improvements at Lewinsville Park include conversion of one tennis court into four dedicated pickleball courts, creation of one dual-use court with both tennis and pickleball lines, reconstruction of the surfacing, and fencing for the five remaining tennis courts and two basketball courts. Project costs were $650,000. The improvements align with recommendations in a recently completed Fairfax County Pickleball Study and are an effort to introduce a greater variety of court sports across the county.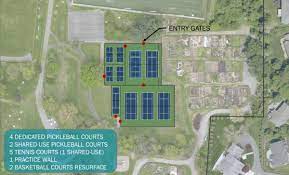 The history of pickleball: pickleball was invented in 1965 on Bainbridge Island, a short ferry ride from Seattle, Washington. Three dads – Joel Pritchard, Bill Bell, and Barney McCallum — whose kids were bored with their usual summertime activities — are credited for creating game. Pickleball has evolved from original handmade equipment and simple rules into a popular sport throughout the US and Canada. The game is growing internationally as well, with many European and Asian countries adding courts.
A pickleball court is the same size as a doubles badminton court and measures 20×44 feet. In pickleball, the same court is used for both singles and doubles play. The net height is 36 inches at the sidelines and 34 inches in the middle. The court is striped similar to a tennis court with right and left service courts and a 7-foot non-volley zone in front of the net (referred to as the "kitchen"). Courts can be constructed specifically for pickleball or they can be converted using existing tennis or badminton courts.
For information contact the Public Information Office at 703-324-8662.