Capital One: New Baseball Stadium in Tysons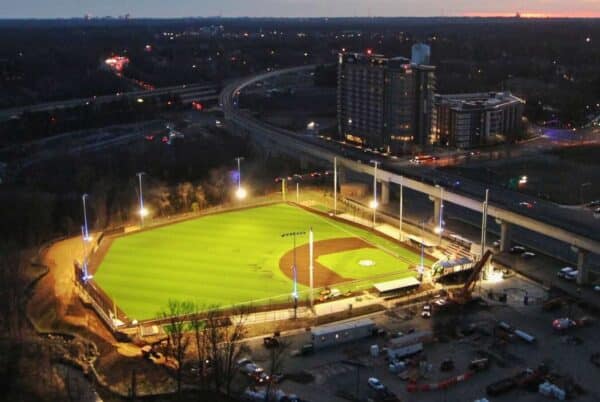 Capital One Park, located at 1600 Scotts Crossing Road, hosted its first-ever baseball games on March 31, introducing itself to the neighborhood with a double-header between Arlington's Marymount University and Centenary University from New Jersey.
Approved by the Fairfax County Planning Commission in October, the park represents the first step toward developing the 6.9-acre site known as Capital One East.
Previously occupied by a parking lot, the property will be an extension of the Capital One Center campus where the financial company has its headquarters. It was part of the planned Scotts Run North development until Capital One acquired the land in May 2019.
The baseball stadium isn't designed for casual recreational use like a public park. Primarily made out of artificial turf, the field was built to meet NCAA standards. The facility can seat over 300 spectators and has picnic areas, restrooms, and a press box.
A schedule of games through Aug. 1 is now on the Capital One Center website.
In the spring and fall, the stadium will host college and high school baseball as well as the Northern Virginia Travel Baseball League. In the summer, the Potomac League — a wooden bat league for D.C.-area college players — will take over with nightly double-headers.
Capital One plans to have an official grand opening celebration for the stadium in June.
Intended to be temporary until the site is built out, Capital One Park will later be joined by a publicly accessible urban park with a water feature, landscaping, a playground, a fitness zone, a plaza with seating, and food truck parking, according to the plan approved by the county. Construction on that next phase of Capital One East is expected to begin later this year for a potential opening in late 2024.