MPA: Spring Solo Exhibitions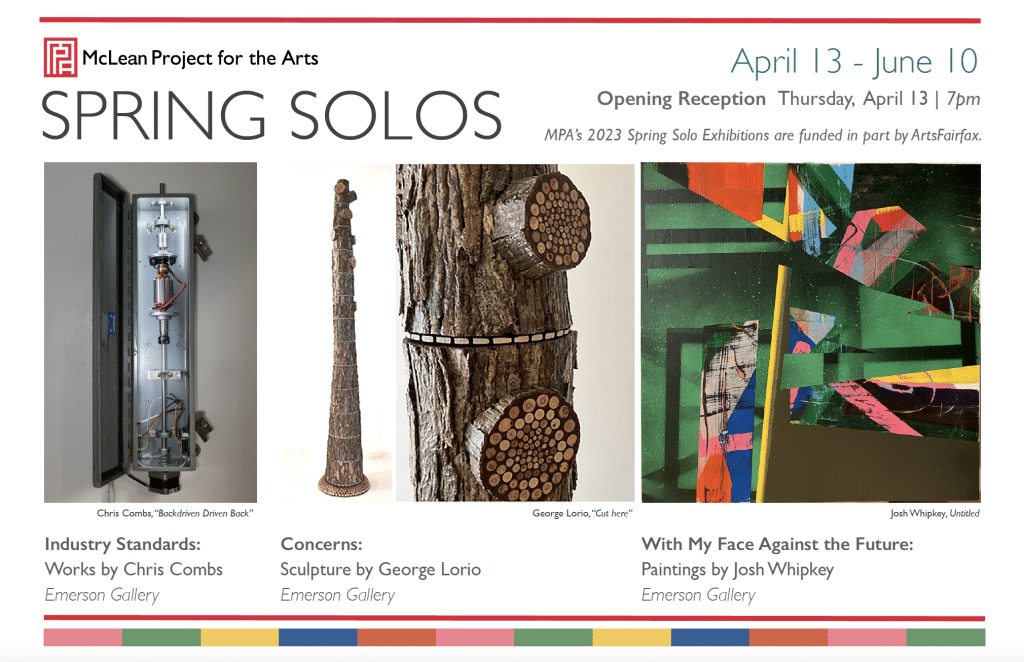 McLean Project for the Arts Spring Solo Exhibitions
April 13-June 10, 2023

Closing Exhibition Artist Talk: Thursday, June 8, 2023 at 7pm
Concerns: Sculpture by George Lorio
In George Lorio's sculptures, tree-like forms are presented as metaphorical references to the possibility of healing and regeneration. Built from a combination of plywood armatures and found bark and twigs, the works exemplify a partnership between human effort and the natural world. Exuding a calm beauty, and both complexity and simplicity, these sculptures inspire a meditation on the necessity of valuing our environment.
Industry Standards: Works by Chris Combs
Chris Combs' sculptures are made from reclaimed or surplus industrial components. Pulled together to both perform a task (of the artists' making) and draw the viewer in aesthetically and technically, the pieces seem almost familiar and yet strangely new. While addressing themes of technology, surveillance and the destruction of the environment, Combs creates sculptures which are at once ominous and distinctly playful.
With My Face Against the Future: Paintings by Josh Whipkey
Josh Whipkey's paintings explore anxiety from physical, experiential, and philosophical perspectives. His smaller abstractions are full of high frequency color and dynamic geometric lines and shapes. Energy is built both within the edges of each individual painting and in each painting's relationship to another. The exhibit features both smaller works that are more compressed compositions to recent paintings that are larger, more spacious and leave room for thoughtful philosophical contemplation upon the nature of reality itself.
Visiting Our Galleries
The Emerson Gallery is open Mondays through Saturdays from 10am – 4pm.
The Atrium Gallery is available during McLean Community Center operating hours.
Learn more at https://mpaart.org/exhibitions/current-exhibitions/