MCC Governing Board Election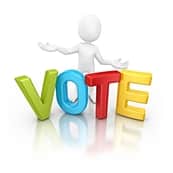 MCC Governing Board Election
Absentee Voting Is Under Way




MCC Governing Board Election 
Absentee Voting Is Under Way


Fifteen District Residents Have Qualified to Run for Seats on McLean Community Center's Governing Board
Three Adult, Two Teen Positions Available


McLean Community Center (MCC) has certified 15 Dranesville Small District 1A residents, five adults and 10 teens, to run for seats on the McLean Community Center Governing Board. The all-volunteer Board sets goals and aligns strategies for MCC programs and facilities, which include the Robert Ames Alden Theatre and the Old Firehouse Center.


Absentee Balloting
Absentee Balloting is under way. Residents may vote in person or by mail. To request a ballot for your household, you may fill out the online ballot request form, phone 703-744-9348 or email elections@mcleancenter.org. Absentee balloting ends on Wednesday, May 17, at 5 p.m. All absentee ballots must be received at MCC by 5 p.m. to be counted.