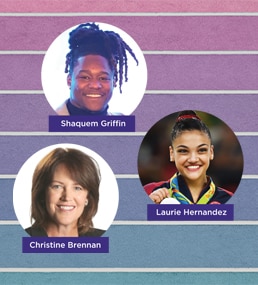 Tackling Body Image and Flipping Mental Health Challenges
A Discussion with Laurie Hernandez and Shaquem Griffin. Moderated by Christine Brennan (All Ages)
Laurie Hernandez is known as the "human emoji." She is the first U.S.-born Latina to make the U.S. Olympic team since 1984. She brought home the gold and silver medals at the 2016 Rio Olympic Games, but the road to get there wasn't easy. She endured years of rigorous training, intense sacrifices and verbal and emotional abuse from her coach, causing an eating disorder and depression. She learned to take charge of her mental health by challenging the myths and stereotypes surrounding mental health issues.
Shaquem Griffin made history as the NFL's first-ever one-handed player. Now he inspires others to overcome adversity and persevere. Griffin was born just minutes after his twin, Shaquill. Both boys went on to become remarkable athletes in high school and college at the University of Central Florida, and both play in the NFL after being drafted by the same team—but Shaquem did it all with just one hand.
Christine Brennan was first woman sportswriter at The Miami Herald, the first woman to cover Washington's NFL team as a staff writer at The Washington Post and is now the most widely read female sports columnist.