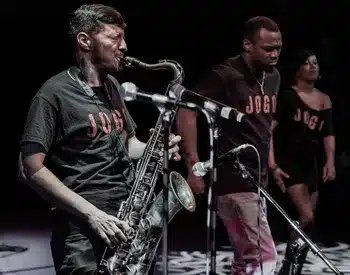 Summer Live Music Series: The JoGo Project
Summer Live Music Series
Every Thursday starting June 1-August 24,
5:30 pm-8:00 pm located on the Upper Promenade near Boro Park
August 3:  The JoGo Project
The JoGo Project is a WAMMIE Award winning band based in Washington, DC that fuses many styles of music, but with Jazz harmonies and a driving Go-Go beat at its core. JoGo was founded in 2014 by DC Native and a prominent figure on the Jazz scene Elijah Jamal Balbed during his residency at Strathmore. Nine years later, The JoGo Project has become a mainstay in the DC music community and is dedicated as ever to keeping DC's Go-Go music alive while also exploring new sounds and repertoire. Over the years, the band has written several original songs such as "One For Pops", "DC's Been Good To Me", "Dear Draylen", "Too Loud!", as well as several original songs that were featured on the video game Tom Clancy's The Division 2.
When Elijah was a Sophomore at Howard University, he received a life-changing call from James Brown's last drummer Robert "Mousey" Thompson. Mousey said "Elijah! Call Bryan Mills! He needs a sub with Chuck Brown and I told him you're the guy!".  Subsequently, Elijah would go on to perform with Chuck from May of 2011 until the Godfather's death the following year – May 16th, 2012. That year Elijah spent with Chuck instilled a new-found love for Go-Go music, which would forever influence his sound and approach to music. When it was time for Elijah to start a band of his own – he knew it had to be something that brought his Jazz and Go-Go worlds together. 
Hence, The JoGo Project. 
JoGo has since performed at many notable DC area venues such as The Kennedy Center, Lincoln Theatre, Strathmore, Fort Dupont and DC Jazz Festival. The band has also branched outside of the DMV with performances at Club Bonafide (NYC), Silvana (NYC), Beyu Caffe (Durham, NC), and The Vagabond (Richmond, VA). In 2018 the band went on a cultural diplomacy tour to 3 cities in Russia (Moscow, Orenburg, and Yekaterinburg) on behalf of the U.S. State Department, where the musicians conducted educational masterclasses, participated in radio interviews, and did performances ranging from intimate Jazz clubs to massive concert halls. In 2019, the band won the WAMMIE Award in the category of Best Go-Go Song for "Dear Draylen" composed by Elijah, with lyrics by JusPaul Spires and featured artist Wes Felton. In 2020, the band released their debut holiday track "JoGo Christmas" featuring Go-Go legend Sugar Bear. Since June of 2021, JoGo has maintained a monthly residency Keystone Korner, a historic venue where the likes of Grover Washington and Patrice Rushen have performed. Most recently, Elijah was included in a published book called "DC Go-Go: Ten Years Backstage" by Chip Py – Chuck Brown's last (and only) official photographer.
For more info, follow us on social media!
For bookings and other inquiries, contact us!