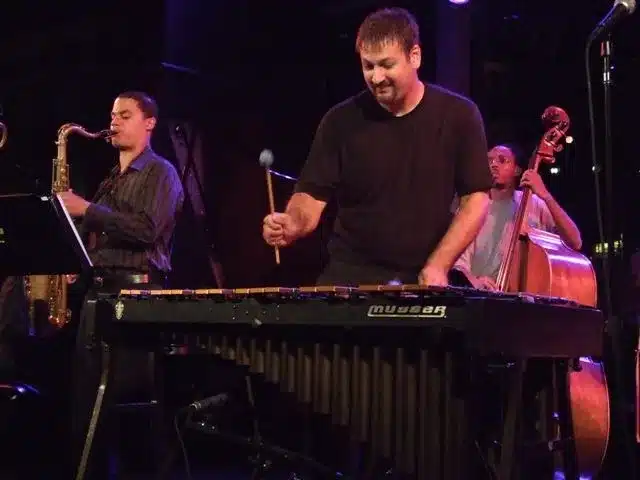 Summer Live Music Series: Joe Baione Jazz Trio/Quartet
Summer Live Music Series
Every Thursday starting June 1-August 24,
5:30 pm-8:00 pm located on the Upper Promenade near Boro Park
August 17:  Joe Baione Jazz Trio/Quartet
The relative rarity of vibraphonists in the history of jazz remains one of the musical genre's true mysteries. Despite the natural beauty of the instrument's sound and the historical importance and celebrated popularity of its most famous players – Lionel Hampton, Milt Jackson and Bobby Hutcherson – comparatively few artists have chosen to make the vibraphone their primary means of expression. Fortunately, Joe Baione shows that the vibes and the mallets with which he plays them are in very good hands.
A native of the state of Delaware, Baione grew up in a jazz drenched musical environment. His father, the clarinetist-saxophonist-educator Jim Baione, is a graduate of Philadelphia's prestigious Combs Conservatory of Music, where he earned both his B.A. and M.A. in Music Education Degrees and first met Joe's musician mother, Barbara. The other musical members of the Baione family include Joe's two older brothers, bassist Tom and guitarist Jimmy. Following in his father's footsteps, Joe studied both music education and jazz performance, graduating from the University of Maryland E.S. in 1995. Since then he has gone on to become a passionate and creative band teacher by day and an energetic and innovative band leader and performer at night. Baione is also the Assistant Stage Manager for the Delaware State Fair for all of the headline concerts.
In 2003, Joe had the good fortune to meet saxophonist/composer Benny Golson, when the jazz legend participated in a series of clinics and benefit concerts in Delaware. The two forged a lasting friendship and Golson became an important mentor to the vibraphonist, encouraging him to pursue his dual dream as a jazz musician and music educator. Golson's appraisal of Baione as "a young man with vision who is able to realize the future today" is one that has inspired the young veteran vibraphonist to reach for the stars. Following the release of his first album in 2005 the eminent jazz critic Dr. Herb Wong noted that "Baione's CD is refreshing and not the same old rinky-tink sound you hear in vibe players today." This disc delivers on the promise of that first effort and demonstrates the continued development of one of the most gifted mallet men in jazz today.
On Oh Yeah!!! Baione builds upon the success of The Superhero using the same stellar sextet instrumentation with one important addition to the lineup – that is the enlistment of veteran producer Todd Barkan as a member of the team. Barkan, who regularly worked with Hampton-Jackson-Hutcherson triumvirate of vibists (as well as many other of the music's most important artists) during his years as owner of the legendary Keystone Korner says, "In addition to being one of the hardest swinging members of his generation of vibers, Joe consistently reaches his listeners with the distinctiveness of his musical voice as both a truly creative virtuoso on his instrument and an increasingly compelling composer. In short, both his playing and his tunes speak more and more clearly and strongly to us."
Baione left the international and national scene the past 10 years, though still performing regionally and some nationally and local. The reason for this was Baione was never home to build a future with his wife Paige and watch his kids grow up and the love for his family had to come first. Now that his kids have grown, Baione is close to retirement in teaching and ready to produce his third recording and perform all over the world full time. The jazz world and radio hosts have been itching for Baione to return to the scene full time to pursue his dream.
Joe Baione has performed at some of the most prestigious festivals and venues in the world, too many to name, but some include Trinidad Jazz and Steelpan Festival, Rochester Int. Jazz Festival, Clearwater Jazz Holiday, Jacksonville Jazz Festival, Jamaica Jazz and Blues Festival, Dizzy's Club Coca-Cola, The Iridium NYC, The Kimmel Center, The Freeman State and the Rehoboth Autumn Jazz Festival, just to name a few. Joe also loves to give back to the community and still do local outdoor concert series to preserve and support live music.
Look out jazz world and fellow vibraphonists! This man is on a mission and will soon be back on the national and international scene very soon!