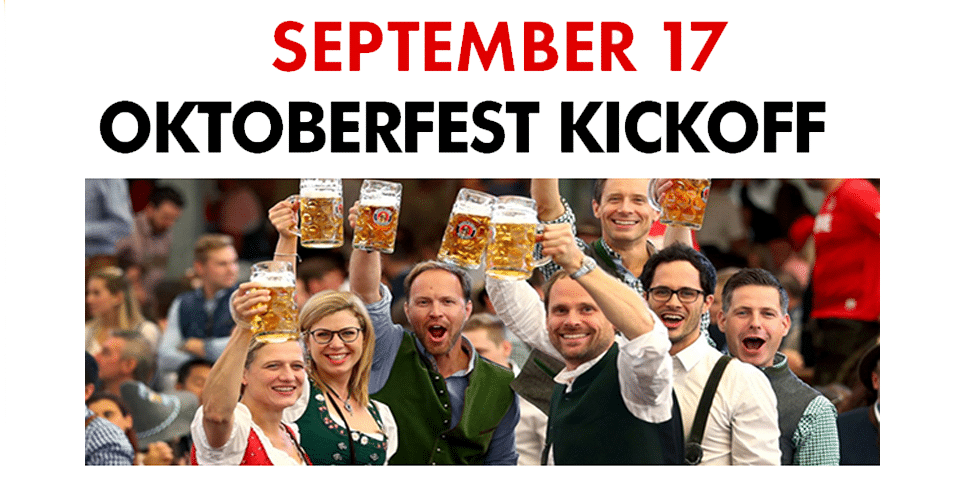 Oktoberfest Kickoff Festival
Come kickoff OKTOBERFEST on Saturday, September 17th with our "tapping of the keg", a special Ceremonial Keg sent from Germany! Bring along your family and friends as there will be activities for all ages!
We will have a fantastic selection of over 50 biers from Germany, Belgium, Austria, and the US for everyone to enjoy. Representatives from several breweries will join us to showcase their biers and offer samples!
1:15 PM – "Tapping of the Keg"
2:00 PM – Stein Hoisting Competition
3:00 PM – Sausage Eating Competition
4:00 PM – Apple Bobbing Contest (Individual Buckets)
5:00 PM – Stein-to-Stein Competition
AND MORE!!!…
➳ 50+ Biers to Sample
➳ Meet & Greet Brewery Reps from Germany, Belgium, Austria & the US!
♫ Live Music (12:30 PM – 7:30 PM)
♫ Live DJ (8 PM – 2 AM)
➳ Bier & Samples
➳ Bratwurst, Pretzels, Wings, Specials of the Day
➳ Outdoor Games & Activities
➳ Pet Friendly
➳ Giveaways, Competitions, & Prizes
➳ Kids' Corner with Face Painting, Moon Bounce, Crafts, and More
➳ Photo Booth
Restaurant opens at 11 AM & the Festival runs from 1 PM until 6 PM. Restaurant closes at 2 AM.