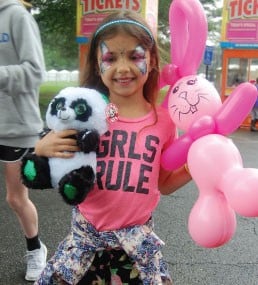 McLean Day 2024
Celebrating Our Hometown Since 1915
Produced by the McLean Community Center
Saturday, May 18, 2024, 11 a.m.–5 p.m.
Lewinsville Park, 1659 Chain Bridge Rd. Free admission
Friday Night Fun!
McLean Day Friday Rides (Rides Area Only)
Friday, May 17, 2024, 2–10 p.m.
Ride tickets and wristbands will be sold onsite and online. Prices vary. Some height restrictions apply. See our website for details.
Vote for Adult & Youth Candidates
MCC Governing Board Elections
Saturday, May 18, 2024, 10:30 a.m.–5 p.m.
Exhibitor Space
Sign up for a McLean Day exhibitor booth space to promote your organization, community group and/or business. Artisans and crafters are welcome! For additional details or to obtain an exhibitor application, visit mcleancenter.org/special-events/exhibitors
Exhibitor Application Dates:
Monday, Oct. 3, 2023: Registration opens for Small Tax
District 1A-Dranesville residents and businesses only.
Wednesday, Jan. 11, 2024: Registration opens to the general public.
Spaces are sold on first come, first served basis. Questions? Contact MCC Special Events at exhibitor@mcleancenter.org.
Sponsorships
Become a McLean Day sponsor and show your community spirit at this highly visible event. For more information contact Catherine Nesbitt at catherine.nesbitt@fairfaxcounty.gov or Ashok Karra at ashok.karra@fairfaxcounty.gov.