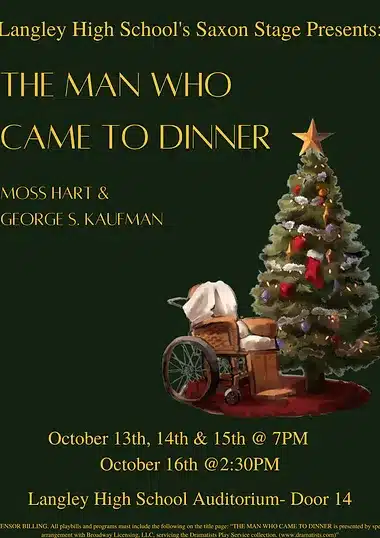 Langley High School Students: The Man Who Came to Dinner
Get your tickets at www.saxonstage.com or at the door. Adults $12, students $8, senior citizens $5 for every performance, and $5 for high school seniors on Thursdays. Performances are on October 13th, 14th & 15th at 7 PM, and October 16th at 2:30 PM in the Langley High School Auditorium (Door #14) at 6520 Georgetown Pike, McLean, VA 22101.
The Saxon cast and crew includes Clara Baker, Ethan Bhatia, Lily Bowers, Annabelle Bozarth, Evey Burnette, Ion Cadenazzi, Eva Cardenas, Ava Carter, Ava Carter, Katie Chen, Niya Coleman, Anna Cox, Katherine Czarnecki, Izzy Montesinos Davis, Cara DeFilipps, Talia-Rose Diorio, Frankie Diorio, Logan Dooley, Catherine Dunn, Kyra Eksi, Lorna Evans, Conor Farah, Sophia Flanders, and Sophia Flanders, Cayla Freedlander, Josephin Friedrich, Zack Gast, Jacqueline Gauchier, Jacqueline Gauthier, Charlotte Gould, Bowen Han, Luka He, Alina He, Sarah Hilton, Delphia Huang, Tess Jannery-Barney, Alexander Jia, Anna Jordan, Brady Kastner, Eesha Kaushik, Cassie Keating, Klaus Kizelewicz, Killian Korchnak, Killian Korchnak, Nick Kristensen, Mia Jonelle Laws, Nate Lee, Caroline Mayer, Maria Maza-Rion, Jenny Mears, Sanika Meixa, Inayah Mirza, Abhi Mogili, Aryana Molaiy, Joana Lima Alves Montenegro, Nico Morandi-Zerpa, Katie Murchison, Lindsay Nguyen, Declan O'Rourke, Aaron Pasztor, Gauri Shyam Pillai, Neev Poran, Andy Powell, Daniel Qiu, Jude Quol, Mo Rees, Eli Roberts, Q Ammar Sabir, Yasmine Said, Victoria Scarpato, Aanya Shah, Sarah Shilinsky, Siy Shroeder, Todd Smith, Scarlett Spano, Izzy Steenburgh, Anna Suh, Ashraya Suri, Conner Tone, Caleb Toronto, Shae Tu, Zach Ulman, Keya Umesh, Sreeja Mani Vemuri, Stella Wang, Lillian Weimer, Hannah Whalen, Erin Young, Atlas Zecca, and Clemence Zou.
The Man Who Came to Dinner is presented by special arrangement with Broadway Licensing, LLC, servicing the Dramatists Play Service collection. (www.dramatists.com)