Community Open House: McLean Design Guidelines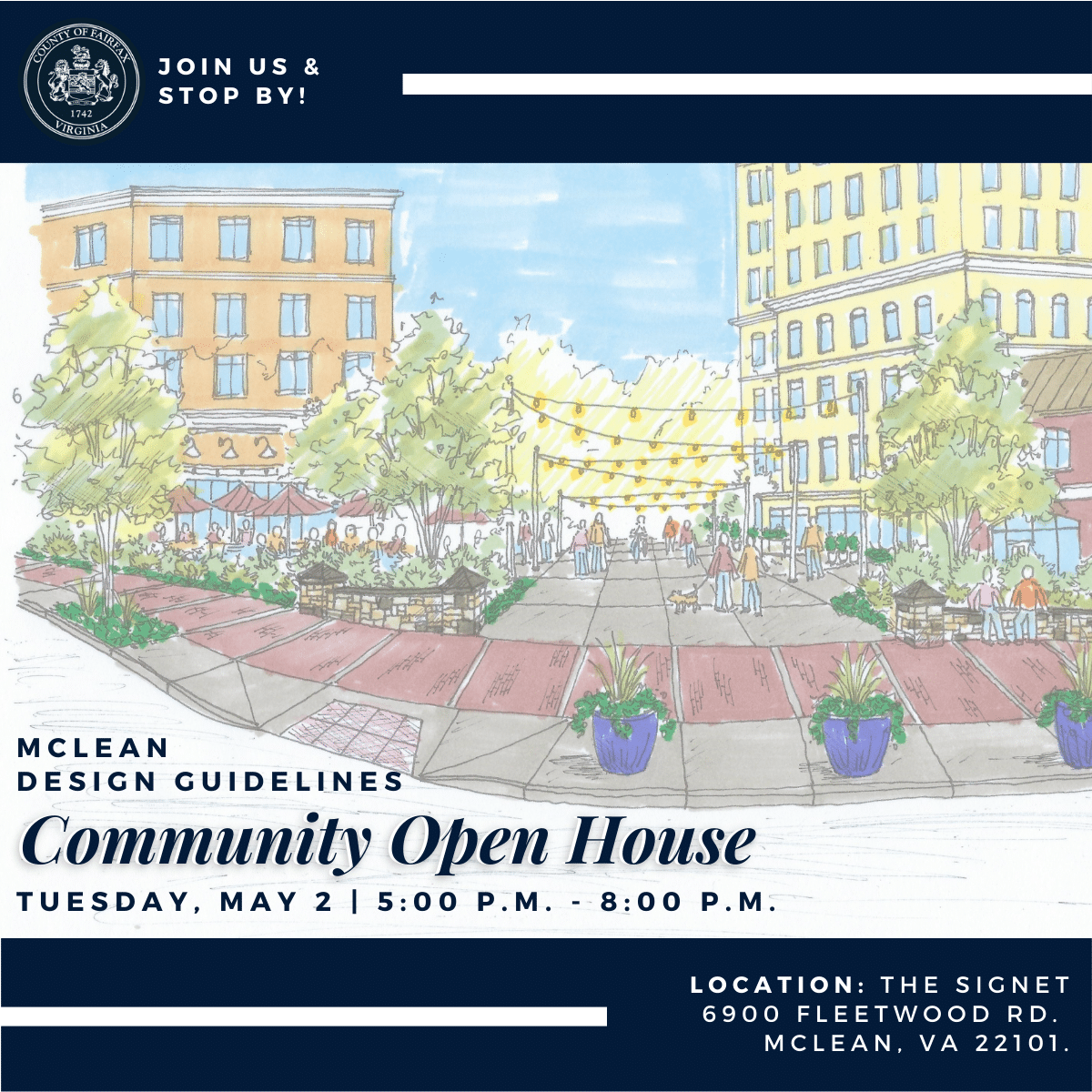 A Community Open House for the McLean Design Guidelines will be held on Tuesday, May 2 at The Signet (6900 Fleetwood Road, McLean). McLean residents and property owners are encouraged to stop by from 5 p.m. to 8 p.m. to learn more about the latest draft of the Guidelines, ask questions, and share feedback. There are no formal presentations but expect to spend about 30-60 minutes walking through the displays and talking with staff.

Last year, Fairfax County began the process to update the Design Guidelines for McLean's Community Business Center (CBC). The Guidelines will provide design direction to property owners when they redevelop properties in McLean. They will describe how streetscapes, landscaping, building features, parks, and plazas should be designed to enhance the appearance of the community and to ensure that all projects work well together. Based on community feedback provided at the kick-off workshop last spring, the Guidelines are being written to communicate community desires for a walkable, small-town feel with brick sidewalks, street trees, outdoor cafes, lively park spaces, and lush landscaping. Review the draft Design Guidelines; Share feedback through the online survey and comment page The review and comment period for the draft Design Guidelines will close on Sunday, May 14. All community input will be reviewed by staff to inform any additional changes. The draft is anticipated to be finalized this summer. Then, the Design Guidelines will be presented to the Board of Supervisors for their endorsement. The Guidelines are a crucial step in communicating the urban design vision for the area as described in the McLean CBC Comprehensive Plan, adopted in the fall of 2021. Parking for the Open House is available at The Signet and on the street. Learn more about this effort and get the latest details: fcrevite.org/mclean/design-guidelines. For more information contact Ben Wiles in my office at Benjamin.Wiles@fairfaxcounty.gov or (703) 356-0551 if you have any questions or comments.