Candytopia at Tysons Corner Center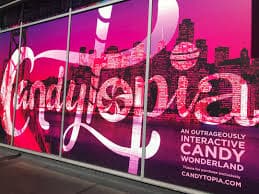 A candy land will soon come to life at Tysons Corner Center. Tickets are on sale now: $23 for kids aged 4-12 and $30 for adults. Kids 3 and younger are free.
The temporary, traveling exhibit Candytopia will arrive at the mall in mid-March, filling a 16,000-square-foot space across from H&M that has previously hosted installations dedicated to the Sistine Chapel and Princess Diana.
Like the Dr. Seuss pop-up scheduled to visit the mall in April, Candytopia will feature a variety of interactive sets and photo opportunities — only this time, everything will be made out of or designed to resemble sweets.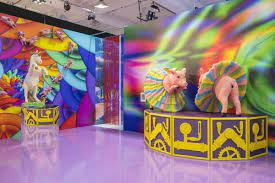 Elements of the pop-up include an art gallery with pieces made out of candy, a candy confetti room "complete with confetti-farting pigs," and a pit filled with 250,000 marshmallows. The 14 different interactive sets will feature some touches specifically inspired by the D.C. area, Candytopia says.
The Candytopia will be located on the lower level of the center, across from H&M. Early access sign-ups begin February 28 and tickets go on sale Wednesday, March 1. Candytopia officially opens its doors to the public in mid-March and will be at the center for a limited engagement until the end of May. Tickets are $23 for children ages 4-12, and $30 for adults. Kids 3 and under enter for free.
For more information, and to sign up for early access visit www.candytopia.com.
About Candytopia
(Youtopia Entertainment LLC)
For anyone who's ever dreamed of scoring a Golden Ticket or nibbling their way through Candyland, Candytopia transports guests to an imaginative confectionary wonderland with a one-of-a-kind full sensory experience and welcomes people of all ages to explore their sweet tooth like never before. Candytopia has drawn long lines and sold-out crowds during its limited run engagements in cities across the country, from Santa Monica to New York, San Francisco to Miami. Candytopia has amassed a huge following of guests of all ages and A-list celebrities including: CardiB, Pink, Usher, Drew Barrymore, Gwyneth Paltrow, Rick Ross, Bruce Willis, Adam Sandler, Kevin Durant, Josh Duhamel, Christina Aguilera, Wiz Khalifa, Hilary Duff, and Jessica Biel, to name a few. Candytopia is currently open in Atlanta and Houston and soon New York. For more information and to purchase tickets, please visit https://www.candytopia.com.