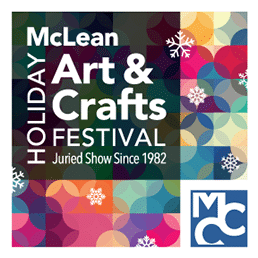 McLean Holiday Art & Crafts Festival
Friday, Dec. 1, 11 a.m.–6 p.m.
Saturday, Dec. 2, 10 a.m.–6 p.m.
Sunday, Dec. 3, 11 a.m.–4 p.m.
Admission: $5 (for all three days of the show) Free admission for children 12 and younger.
Experience seasonal cheer at this delightful three-day indoor juried show featuring approximately 80 talented regional artisans. Celebrating more than 40 years, this feast of one-of-a-kind gifts for every budget includes pottery, glass, jewelry, holiday decor, mixed media, fashion accessories, wood, fine art, artisanal foods, soaps and more. Stroll to music as you shop and enjoy a beverage or lunch at the onsite café.
New! Muffins & Mimosas V.I.P. Preview
Friday, Dec. 1, 9-11 a.m.
V.I.P. preview: $15, includes show admission.
Show management provided by the Northern Virginia Handcrafters Guild, visit: https://www.nvhg.org or write mcleanshow@nvhg.org.
The Zapplication deadline for this year's event was May 31, 2023. Please contact the guild directly at mcleanshow@nvhg.org for more information on how to proceed with the application process for next year.